Thursday, 19 January 2023 08:09
Written by G Edwards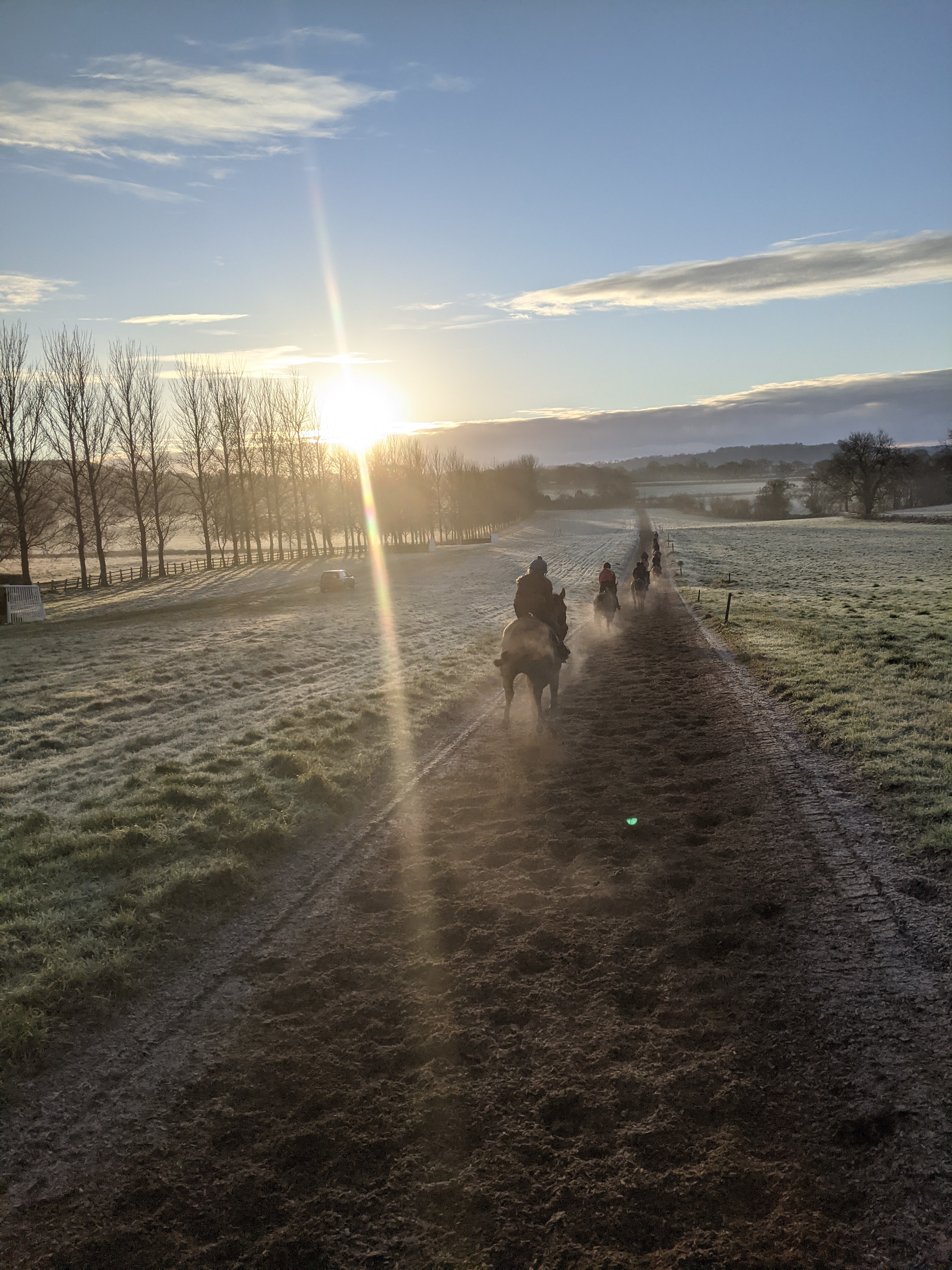 Well our lorry got about an hour down the road yesterday when the meeting at Plumpton was unfortunately called off.  They seemed quite hopeful first thing in the morning but as the day dawned they realised they were in trouble and we appreciate an early decision in these scenarios.  The horses were soon back at the yard and exercised as normal.  Wincanton were going to inspect at 8am this morning ahead of racing there today but it was actually called off yesterday afternoon.  We were due to have five runners there and while frustrating it is nice to know in advance and we can plan accordingly.  To be honest, it is no great surprise with the cold weather following on from a wet period it makes things tricky all-round. 
There is now no jumps racing at all today and with Lingfield already abandoned on Friday, it is looking like a blank day for jumping on Friday as well with Market Rasen inspecting at lunchtime today ahead of their meeting which has to be in major doubt.  The meetings on Saturday could also be struggling with temperatures not set to rise as quickly as everyone had hoped earlier in the week.  With day one of Lingfield's Winter Million weekend lost to the weather already it is great they were proactive and they have rescheduled the biggest two races from Friday to Sunday's card to make it a bumper nine race afternoon.  We do hear on the grapevine however that they need a bit of luck even for racing to go ahead on Sunday so fingers crossed the temperatures do rise and not all of their jumping action is wiped out.  It is a great initiative by Lingfield to have put on these race days with plenty of prize money on offer and they also did a great offer for the public to be able to go along and watch at a reasonable cost.  I personally don't see why that if the worst comes to the worse and they can't race on Sunday, why we don't do what they do in Ireland and transfer the whole Sunday card to Monday?  At the moment there is no scheduled jumps racing on Monday anyway so I don't think it could be too difficult to delay everything by a day when the weather should definitely have improved.  While the racecourse might not get quite such a big crowd with it being a work day, I am sure it well be well supported by the owners and trainers and horses.  We shall see what happens!
Manchester United drew 1-1 last night with Crystal Palace which goes down as a disappointing result with Palace only equalising moments before the final whistle.  United weren't good enough to be honest in the second half but it was a brilliant free kick which earned them a point.  There is another good Premier League game this evening with Manchester City at home to Tottenham Hotspur at 8pm.  Tottenham are struggling for form at the moment and so I think it could be a tough evening ahead for Spurs.
Britain's number one ladies tennis player, Emma Radacanu lost in the second round of the Australian Open yesterday.  The 20 year old had been struggling with an ankle injury coming into the tournament but put up a good display against the American seventh seed, Coco Gauff.  She lost in straight sets 6-3 7-6 (7-4).  Britain's number one men's player Cameron Norrie is safely through to the third round after beating French man Constant Lestienne in four sets.  Andy Murray is in action in the round of 64 against Australian Kokkinakis today.
Who was the builder of King Arthur's round table?  Sir Cumference!  Have a good day.