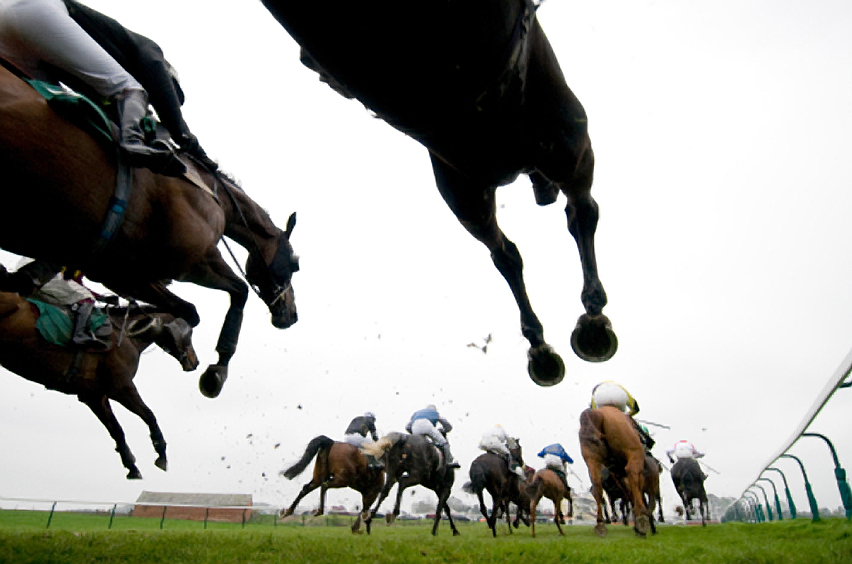 Why be an owner?
Well if you love horse racing be it watching it on the telly, or enjoy going racing, there's no better way to enjoy the thrill of ownership at a top National Hunt stable than having a horse in training.  The fun and enjoyment doesn't just involve the race day itself.  You can visit our stables and watch your horse in training, meet the jockeys and staff who keep the whole show on the road, and help plot future races and plans for the horse.
Most importantly, if you have a horse in mind you would like to buy either at the sales or in a private transaction, David is always available to discuss your requirements. David and the team have a proven track record at spotting horses for the future which can meet almost every budget, from a fun horse to run at your local track, to one of potential who has the right make up for the big race meetings.
On the day of the race you will be filled with pride as your colours are ridden to the start - yes you have the fun of choosing your own dedicated colours, which stay with you while you have horses in training. You receive free entry at every racecourse where your horse is running with a minimum of 4 badges for each owner and a dedicated owners and trainers bar to celebrate after a race with a drink. Some courses even give you a spot of lunch or discounted deals on entertaining. 
So it's a great day out at the races, but it's almost an all year round experience apart from when your horse goes on its well earned holidays...they need a break just like the rest of us.
Comply or Die - Grand National Winner 2008
Owners Testimonials
"As a racehorse owner, I have been very lucky to be associated with Pond House for many years.  Martin Pipe achieved great things for me as a trainer and his son David was very much a part of that success.  Now the keys to Pond House have been passed to David alone, the tradition of success and fun continues to flow.  David has brought me much success winning at The Cheltenham Festival, Aintree and Grand National to name a few remarkable achievements.  Like his father, David and indeed me as an owner, still get lots of fun and enjoyment whether we win races at Newton Abbot or Cheltenham.  In my opinion, David gets the best out of every horse whether a star, superstar or a selling class horse.  His objectives are simply to do his best for the horse and win wherever he can.  He has certainly achieved all these objectives for me and I wish him continued success."  
- The late David Johnson, owner of Comply Or Die, Our Vic & Great Endeavour  
"It has long been a dream to have a horse with Martin and David Pipe.  To say I admire Martin would not be strong enough.  He was doing things outside the box
a long time ago and if there's one thing I have learned in business those people are worth their weight in gold.
I knew after 20 minutes that I had come to the right place.  They're such lovely people.  Even if the horse had never got to see a racecourse I'm so pleased he's being looked after where he is.  If he could talk he'd be thanking us for having him based there – it's a five star place.
I've never had an experience like that first win.  You just want the horse to come back safe and sound but to win was fantastic.  I came into the sport treating it as a hobby, so the winning is a bonus.  Just meeting people like Martin and David makes it all worthwhile.  I love it."
- Steve Quinlan, owner Virtuel d'Oudon
"I have enjoyed owning horses over a number of years and I chose David as a trainer as he has a proven track record, the facilities at Pond House are first class and there is always a friendly, family atmosphere within the yard.  Even if you only own one horse you are always made to feel part of the team."  
- Gino Paletta, owner of Wise Owl and Frosted Grape
"My association with David Pipe has been both enjoyable and successful, and it has been a privilege to have horses in training at Pond House.  Aside from their proven ability to produce winners, David and his team really do make every effort to ensure that owners feel like a part of their extended family, and I look forward to many more happy years with them."  
- Roger Stanley, owner of Madison du Berlais, Grands Crus and Gevrey Chambertin
"We were lucky enough to choose David because he came across as a very down to earth, friendly and welcoming person, combined with a steely determination to do the absolute best for his owners and the horses in his care. The unrivalled track record of success Pond House has enjoyed over decades continues and we enjoy greatly being a very small part of the yard and the teams success."
 - Jo Tracey owner of Broadway Buffalo & Impulsive American
"David Pipe has quickly proved to be a top class professional and he manages to balance the often lofty aspirations of his owners with the absolute priority of looking after the interests of the horses, while exuding  a sense of calm and humour."  
- William Frewen, owner of Lough Derg & Taj Badalandabad
"Thanks to the Pipe's and their team for the warm reception and hospitality which we received - second to none in our experience all over the north, in Newmarket and in the West Country."
- John & Pam Clark, members of the Foxtrot Racing Syndicate
Sole Ownership
The most common and probably easiest form of ownership, you do incur all the costs but for the glory and the winnings...they all belong to you!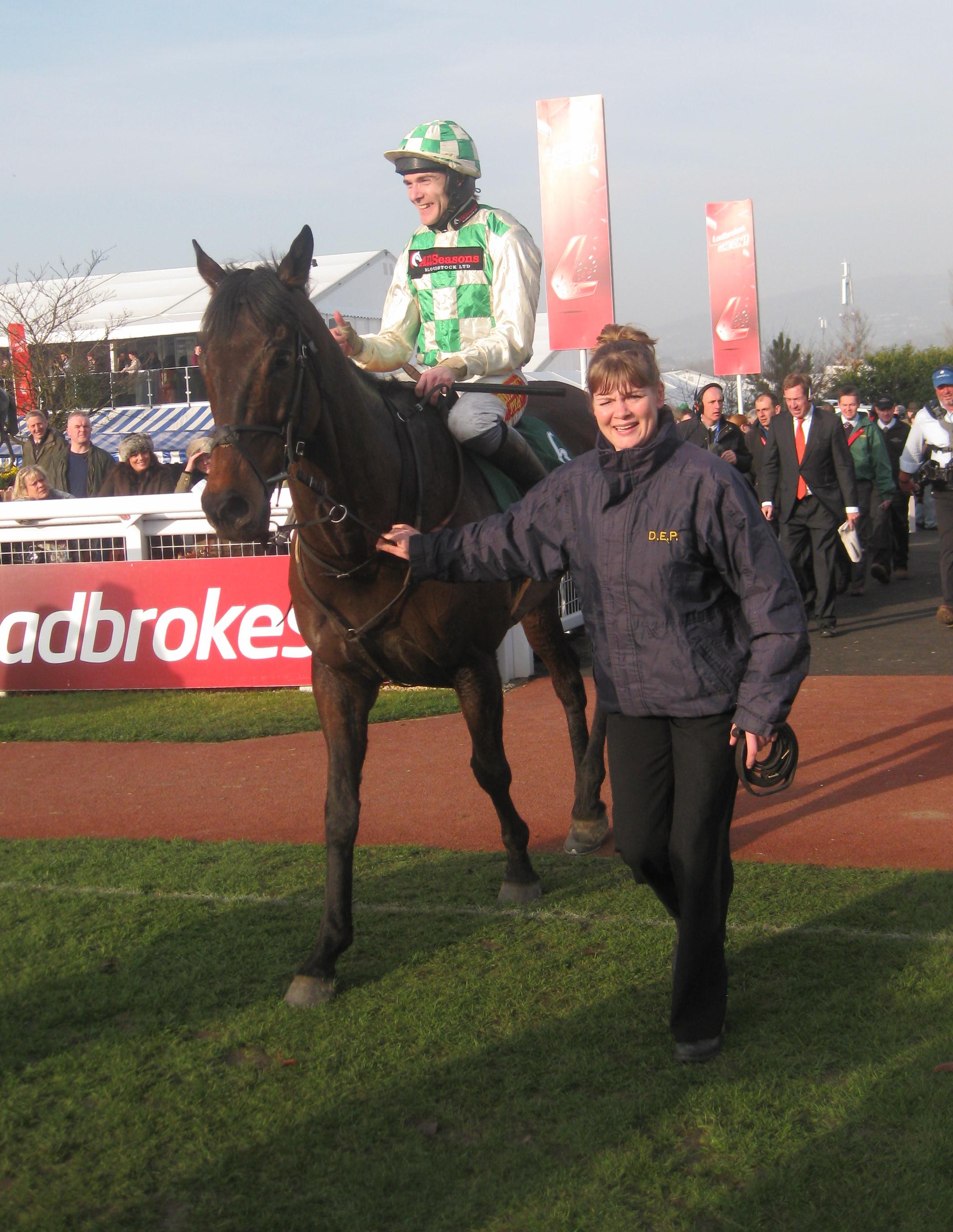 Above left: Dynaste wins the Ryanair Chase at the Cheltenham Festival
Above right: Allan Stennett's Ballynagour runs out the easy winner of the Byrne Group Plate at the Cheltenham Festival
Joint Ownership & Syndicates
Part of the fun of going racing is taking friends or family - it is not only a fantastic day out, but also a clever way to spread the costs of ownership.  You can also form a syndicate with up to 12 joint owners.  Although the two nominated registered partners in the group take care of the minimal paperwork, you all share the fun, excitement, cost and winnings...depending on you luck!

Above left: French Champion Hurdle winner Un Temps Pour Tout, owned by Professor Caroline Tisdall & Bryan Drew wins the Grade 3 Ultima Chase at the 2016 Cheltenham Festival
Right: Junior lands the Kim Muir Chase at Cheltenham for Middleham Park Racing Syndicate
Corporate/Company Ownership
Available to private companies or existing business partnerships who are VAT registered, it is a great way for you to raise your company's profile through branding opportunities and PR initiatives.
---
If you choose any form of ownership you can also reclaim the cost of VAT on all purchases and training fees through the Sponsorship of the yard by W&S Recycling