Monday, 02 January 2023 11:41
Written by Emma McWilliam
         Remastered Winner at Kempton
It has been a very busy Festive period and I am looking forward to hopefully having a quieter few days this week. On Boxing Day I was at Wincanton, followed by Kempton, Taunton, Newbury and Cheltenham. My days always start early but they have been even earlier than normal in the last few days and I have clocked up a few miles on the car as well! I nearly didn't make Kempton on Wednesday due to getting stuck in traffic but we made it in the nick of time and Remastered was a fantastic winner. It has been a rollercoaster of emotions the past week with some good, some bad and some sad all mixed in but that is the nature of our sport and working with horses so we have to enjoy the highs and stick together and keep going through the lows. The staff have a half day holiday today for it being bank holiday and then working hours return to normal tomorrow. Everyone has been working hard to keep the show on the road and a couple of nice winners make everything worthwhile.
 KEMPTON CHEER
Remastered was a great late Christmas present for me and the yard. He ran a cracker in the Coral Gold Cup at Newbury to be second last time but this was a deserved big success over fences for him. A wind op this summer has made the world of difference. He has always been a good horse but this season he has come back in better form than ever and this is reflected in his performances. It wasn't all plain sailing in the race however and Tom Scu had to revert to plan B after he shied away from the tapes at the start and lost valuable lengths. He was lining up right down the inside at the front but after a false start, it was then a standing start and when the starter dropped his flag we shot off in the wrong direction! Tom did not panic, rode us race, slowly creeping into it and taking up the running as they turned for home. Three good leaps up the straight helped seal the victory and he galloped on strongly all the way to the line. Off a rating of 146 he carried top weight of 12st 1lb to victory over some good rivals so he is likely to be rated in the 150s from Tuesday when the handicapper has his say. Now that he can breathe he seems so much more relaxed in the early part of the race and then he keeps going strongly at the finish.  Jumping is his big asset and I will have a sit down with owners Garth and Anne and we will discuss plans for where we go next. I must just mentioned the Remastered is ridden at home every day by former champion Point to Point jockey, Ashley Farrant. He is quite a handful to ride at home and he does a very good job with him. Ashley always accompanies him to the races as well as he is also quite lively in the preliminaries!! This time he also drove him to the races on Wednesday as well so it was a great job all round by him.  He loves is horses, especially this fella and it means a lot to him seeing him run well.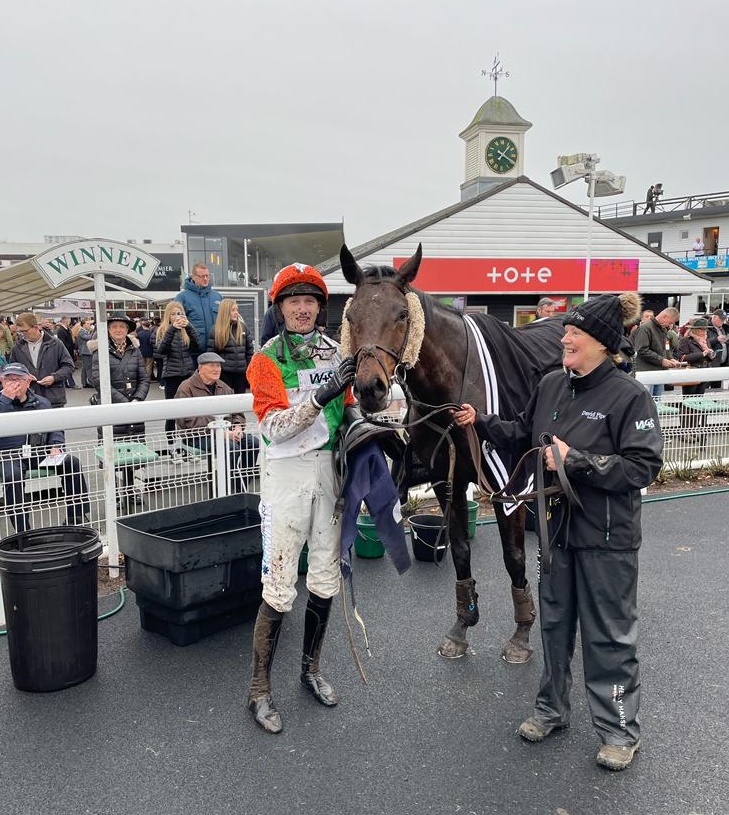 Shot Boii Winner at Uttoxeter
THREE IN A ROW
 Shot Boii made it three from three this season when winning at Uttoxeter on Saturday. I actually got asked if I knew of any other jumps horse that had won three races by such short margins before. I don't know the answer but there can't be that many horses that have won three races by a neck, nose and half a length in total winning distances - he is a trainers dream (although my heart might say otherwise)!! The handicapper can't put him too much for this win and so he should continue to be competitive. We have had Shot Boii since a store horse and it is fair to say he has been a bit of a slow burner. He took his time to learn his trade last season but did manage to win one race over hurdles at Ffos las. The summer break last year was the making of him however as he has come back stronger and much more mentally mature. He has a big heart and always tries his best for you, even at home on the gallops, he has a great attitude and it shows that in his races. Stamina is his forte and is at his best over a trip on testing conditions. Fergus Gillard in now unbeaten when riding him and is three from three on the Malinas gelding. I think he will be even better over fences in time but for now we will stick to hurdles where there is more improvement to come.
Alongside our winners we have had a few disappointments but also some good placed efforts as well. We sadly lost Doyen La Lutte at Taunton on Friday. Our mare ran a nice race but suffered a fatal heart attack. Our thoughts are with The Contractors, a small group of owners who own her and Sam who looked after her at home.
This week will be much quieter on the runner's front with less racing in general and we have very few entries until the weekend. After Monday, our only possible runner is Bashful Kate who may make her handicap debut at Ffos Las on Thursday. We have entries to look forward to at the weekend so keep checking the daily blog for more news of runners.
FESTIVE PERIOD
I think for racing in general, it has been a great Festive period of action. Field sizes have been good, racing has been competitive and they have had big crowds at all of the racecourses. I think perhaps the cold snap just before Christmas and the abandonments of meetings has played its part in increasing runners over this period and is why perhaps the fixture list needs a little tweak in the future.
FLU JABS
I predict a little dip in runners in the next couple weeks however and it will be interesting to see if I am proved right or not. This is the first time that flu jabs for the horses being done every 6 months has been enforced.  At Pond House we have always flu jabbed are horse twice a year but now it is official and the jabs have to be entered in the horses passport. What it means is the horses are not eligible to run if their jabs are not in date. You cannot then run a horse for seven days after they have had their jab either. You also have to bear in mind that you do have to ease off the horses work in the days after they have had their injection as well. You probably know from humans that we all react differently to the same things and horses are exactly the same. Some don't know they have had it, some have a mild reaction while some might feel a more under the weather. We take temperatures twice a day everyday anyway here at the yard but we monitor things even more closely after jabs. All of our horses have now had their jabs after their latest runs and so it is pretty much business as usual for us but it may be different in other yards who may not be used to flu jabbing at this time of year. Just a few points of interest I thought I would mention.
HONEYMOON COMING UP
I am away next week. Leanne and I are having our somewhat delayed honeymoon in sunnier climbs. Covid forced a couple of delays and changes to our original plans and so it is nice to be finally getting away. I don't like going away too much but I will make an exception for this! It will be good to re-charge the batteries and I will still be doing a bit of work while away. I can also watch the gallops via video link on my phone so I will be keeping a close eye on things from afar!