Monday, 23 January 2023 14:38
Written by David Pipe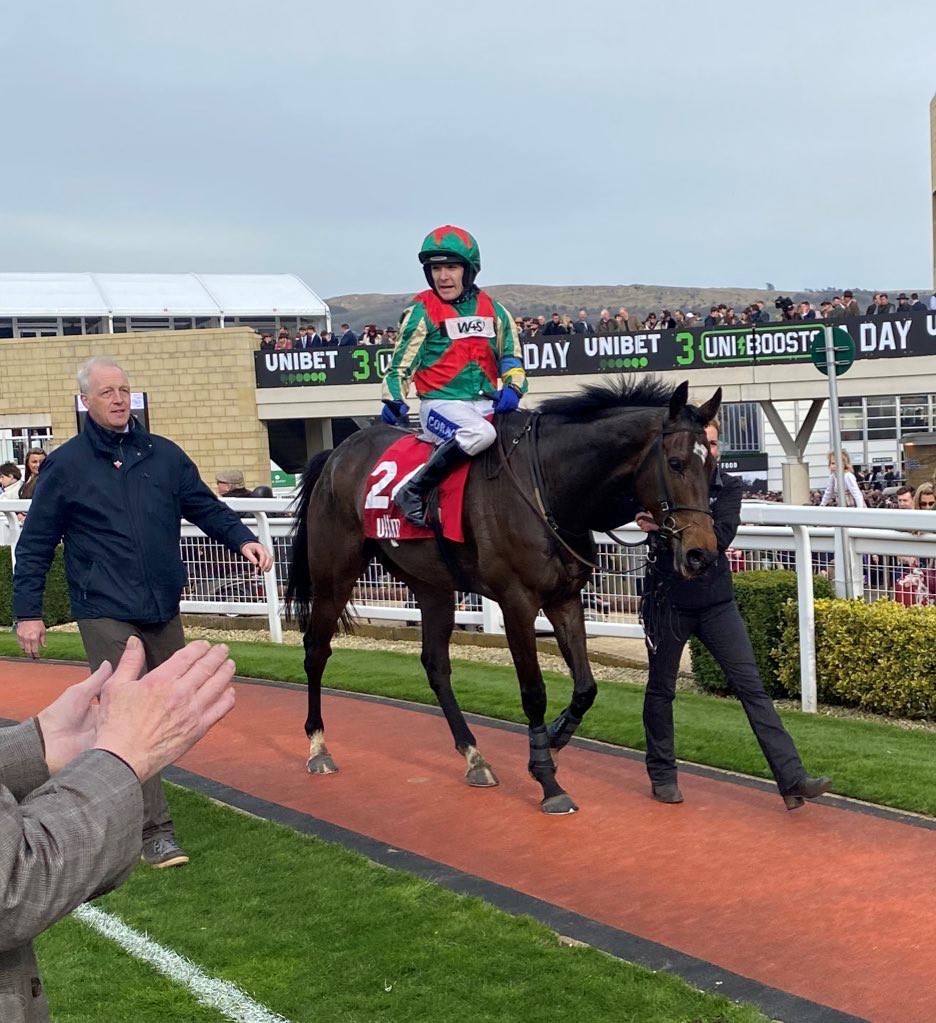 Gericault Roque will wait for Next Season
I have now been back 'in the office' for one week since returning from my honeymoon and I have been busy catching up in all departments. While it is lovely to get away, sometimes the extra work before you go away and then after you get back puts added pressure on!  Last Monday I went to Hereford with what turned out to be our only runner of the week, Pachacuti. He put a below par seasonal reappearance at Wincanton totally behind him with a good display to be second. He suffered a little interference from the winner at the last hurdle and then again on the run in which didn't help his cause but he galloped all the way to the line. The stewards did look at the final stages but it was not enough to amend the result. Our horse is relatively inexperienced and he can improve on this next time, possibly with an even greater test of stamina.
Weather Wipeout
Plumpton was abandoned last Monday and then the weather totally wiped out jumping for the rest of the week. While different courses had different levels of optimism ahead of their meetings, ultimately there is not a lot anyone can do when temperatures drop below freezing for several nights in a row. While frustrating for lots of reasons I think in general that racecourses have done a good job of communicating updates in recent times and early decisions have been made which lets everyone know their fate and make alternative plans. I have noticed more afternoon inspections of late which I think is a good idea. With 48 hour declarations it gives racecourses a chance to inspect 24 hours before racing. When you know the forecast and if you can't race the day before at a time when you would be running a race the following day, it is sensible in my opinion to call it off then. While we are still having to go through all the motions behind the scenes like entering, declaring and preparing, at least the horses and the lorries are not leaving home and costing everyone time and money. When the forecast is a little more unpredictable I'm all for a morning inspection but common sense must always prevail. We all want to race but as I have said before, there is not much we can do about it sometimes!
Moving an Entire Meeting
The only thing I do wish these days still is that we should be a little more flexible in re-arranging whole race meetings. In my opinion, why could the lost Lingfield card not be re-scheduled for one day this week? They do this in Ireland all the time and it works well. While I don't profess to know all the ins and outs behind the scenes of organising this, surely in this day and age we should be able to do something? For National Hunt trainers and owners in recent weeks it has been very stop start and frustrating programme. A little more flexibility arranging and re-arranging things would certainly go down well at the moment. For example, it is great they have re-scheduled the Clarence House chase for Cheltenham on Saturday. As it was an early closing race, entries revert to the entry stage in which Sizing Pottsie was one of the eight original entries. Only three were declared to run at Ascot and we chose not to go for the rave because we had a better opportunity in a handicap at Lingfield on Sunday. However, with Lingfield abandoned yesterday, Sizing Pottsie missed his intended engagement so we have confirmed him for Cheltenham now instead. It is great for us as there is still a relatively small field and we can hopefully pick up as much prize money possible. I do think however the race is now at a different course and a different time, why not re-open then race to everyone? You are likely to get more runners, a more competitive race and therefore better for racing in general. Just my opinion.
This week
While temperatures are set to rise this week, the thaw has not come in time for the three meetings scheduled to take place on Tuesday with Exeter, Leicester and Market Rasen all abandoned already.  Our next runners will be at Wincanton and Wetherby on Thursday all being well while on Friday we have entries at Huntingdon over jumps and on the flat at Lingfield.  At the weekend we are entered at Cheltenham, Uttoxeter and Fontwell so keep checking the daily news for more up-to-date news.
Gericault Roque
I just wanted to give a little update on Gericault Roque as we have decided he will not be running again this season. He ran a cracker in the Coral Gold Cup at Newbury on ground that was a bit quicker than ideal and he came home a little 'jarred up'. We have given him time to get over this and while his latest scans are clear and the vets are happy, having chatted with owners Bryan Drew and Professor Caroline Tisdall we have decided to give him more time and not rush to get him back to the spring festivals. He is a horse we hold in high regard with the long term aim of the 2024 Grand National so will map out a plan for next season during the summer culminating at Aintree in April.
Upcoming Sales
This week there are sales at Doncaster on Tuesday and Wednesday and then at Cheltenham on Saturday after racing. Having been through the catalogues, there are horses to suit all budgets so if you are interested in getting involved please do get in touch This email address is being protected from spambots. You need JavaScript enabled to view it. for more information.
Welcome Gearoid Harney
Gearoid Harney is an amateur jockey who has joined our team this week. He has ridden five winners from just 45 rides in his career to date and is great value for his seven pound claim
Birthday Celebrations
We had a lovely family day on Sunday as my youngest daughter Martha celebrated her seventh birthday. We had a nice family lunch and she received some great presents although she is very much looking forward to her pamper party with her friends in a few days' time!
New Four Legged Addition
I would like to introduce Ted to everyone, the newest member of the Pipe family! Ted is a fox red labrador who joins our fellow four legged family members, Sydney and Luna. He is getting plenty of cuddles from the kids, they are just not quite as good as cleaning up after him that is my job they tell me!!